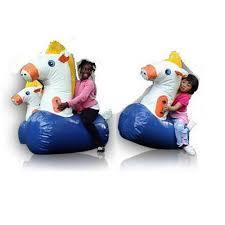 PONY HOPS
PONYHOPS Come to You WILD & UNTAMED!!! PonyHops Always Steal the Show!!!,
These inflatable ponies are perfect for racing with others or just bouncing around; all you need is a flat area and a couple of riders, see who can be the fastest!
To be used on grass or dirt – not for pavement use.
51″ x 46″ x 18″ (Diameter) for ages 7 -13
Come deflated but we provide an Air Pump for inflating. PLEASE DO NOT use an air compressor to fill!