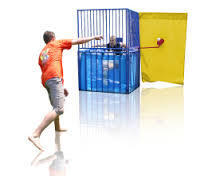 DUNK TANK RENTAL
The Dunk Tank is one of the best additions for any birthday, family event, corporate event and especially fundraisers. Put one of your courageous guests on the platform, while other guests can take their chance throwing the ball at the special target – which will instantly, upon being hit, plunge that courageous guest into the water. The tension in the pit of your stomach will never be more exciting than when that one magical throw perfectly smacks the red circle. We all know what happens next. The The Dunk Tank is sure to make a huge splash at your party!
- Four balls are given to each customer for rental use.
- If set up at a business, it must be nearby a water source with a usable hose.
- If set up at a park, customer must first obtain a permit to set up a dunk tank.
- Continuous water source is mandatory. Dunk Tank use should be supervised by an adult at all times.
We do not recommend the dunk tank for kids younger than 8 old. Participants
must know how to swim.
Please give us a call for more detailed information.
Size: Approximately 10'L x 6'W x 12'H