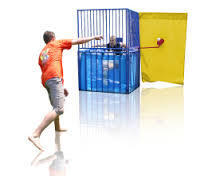 Dunk Tank Rental
Our dunk tank is a big hit at corporate affairs, family parties and especially fund raisers.
Get your "favorite" person in the tank, take aim, throw the balls at the target and when
you hit it, watched them splash down into the water. Dunk Tanks are delivered and set up
by us. Four balls are given to each customer for rental use.
If set up at a business, it must be nearby a water source with a hose adaptable.
If set up at a park, customer must first obtain a permit to set up a dunk tank.
Continuous water source is mandatory.
Dunk Tank use should be supervised by an adult at all times.
We do not recommend the dunk tank for kids younger than 8 old. Participants
must know how to swim. Please Give us a call for more detailed information.