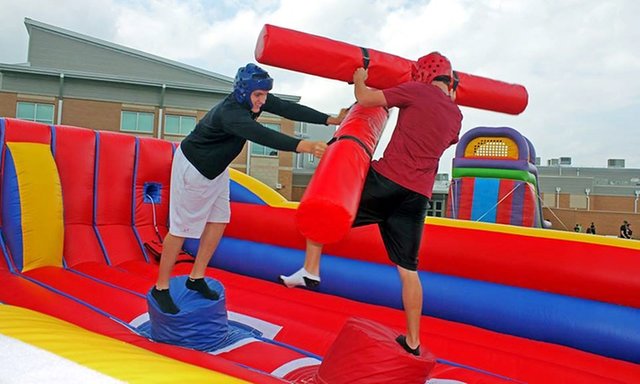 Bungee Run /Joust Combo
Actual Size: 30' L x 18' W x 8.24'H




With our Bungee Run/Joust Combo, you get two classic rides for the price of one. Kids of all ages can enjoy your event with a battle of balance on the Joust and then a race of strength with the Bungee Run. Each time party goers get to the front of the line, they can choose which interactive inflatable adventure they want to entertain themselves with. The Bungee Run and Gladiator Joust Combo is one of our most requested items for two reasons: 1) both interactive inflatables are a ton of fun, and 2) it's a great value to rent both inflatables for much less than the cost of renting the Bungee Run and Gladiator Joust separately.
Participants must be at least 48″ tall. For the Gladiator Joust, we use padded head gear to protect the kids. We also have a strict policy against head shots to make sure that everyone is safe and has the most amount of fun with this inflatable game. The jousting sticks are foam so that kids do not have the ability to injure each other. They are quite heavy though, so we recommend middle school age and above. Younger kids will try and enjoy the Gladiator Joust as they enjoy any inflatable and watching them is quite comical, but they usually tire of it. For the inflatable Bungee Run option, participants use a padded vest to connect themselves to the bungee cord. They then run forward placing a baton as far down the inflatable as they can. Both of these variations are some of the best interactive inflatables you can rent for your party or event.

* 8 Hour Rental
We offer free delivery, set up and take down within 15 miles of WVC.